Mirror Mirror

-

Kick It
Mirror Mirror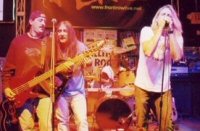 The Story of Mirror Mirror began in June 1998. The original members included Scotty Beach, (Guitar), Sean Sandy (Drums), Michael Richards (Bass), and Tracy Allen (Vocals, and Acoustic). We were a band without a name for several weeks. Throwing around names such as Rock Candy, Aftershock, etc etc. Until Scotty came up with Mirror Mirror from one of his favorite Star Trek episodes, so the name stuck.
In no time at all we were building a strong following with our 80's style and high energy shows.
In the fall of 1999, Mirror Mirror went to work on our first CD titled "Better Ways". The disc seemed to be a hit, gaining national interest with record companies, such as Jet Speed Records (California) and Jay Byrd records (New York); we thought we were "Rock Stars". After having an attorney read…
Location
Parkersburg, WV - USA.
Similar Artists
Bon Jovi.
Related CDs
Categories
UPC: 643157380924