New Identity (Marcia Green) CDs
New Identity (Marcia Green)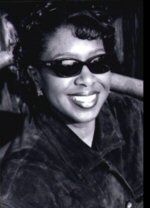 Marcia grew up going to an Evangelical Church with her parents from around the age of 6. She soon became a member of the Youth Choir and enjoyed visiting other churches and taking part in their concerts, this is what set her up with a good base to be able to continue singing long after she left the church in her late teens.
The band are from varying backgrounds and was formed initially within the confines of The Room in the sky Studios in Waterloo, recording various works together on 7" & 12" records in 2001. Their name was then 'WHAT'S HAPPENING' and they together recorded the song 'OUT COMES THE SUN'
The line-up was a lot larger at the time, consisting of George Stewart, Patrick Fulgence, Nicholas Bald, Tracey Reid, Dave Carr, Ken Ijah Boothe and Marcia Green.
Some of the original members have moved on, (Tracey has migrated to Spain, George is building his album & Ken is on other projects), leaving Patrick Fulgence, Nicholas Bald, Marcia Green and Dave Carr. Terry Fulgence joined as the Bands Drummer in 2002 to do the show increasing the line up to 5 and changing their name to 'THE BAND WITH NO NAME' (temporarily).
After pulling away from the Room In The Sky Studios, the band organised a show called 'THE POSITIVE VIBES SHOWCASE' with Esteem Promotions. This show was held at the Scene Night Club on the Old Kent Road in Nov 2002.
There were plenty of artists taking part in the show totalling 13 in all. It was a good first show with a respectable turn-out of around 300 people. There were some toothing problems with the sound quality but the response from the crowd was very good and the feedback from those that attended was positive.
The show was a success, but due to circumstances, the promotions didnt go further and the band decided to take a break for a couple of months.
Over the past year, the band have been honing their skills and rehearsing at a studio in South London, adding more Cover tunes and Original songs to their set as the plan is now to do more gigs in the local area.
Location
Dartford, Kent - England.