New Identity (Marcia Green)

-

Bless The Lord

A selection of Reggae Gospel tracks some old but most new, written by Marcia & Kenijah.



Track Listing
New Identity (Marcia Green)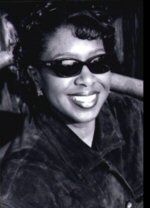 Marcia grew up going to an Evangelical Church with her parents from around the age of 6. She soon became a member of the Youth Choir and enjoyed visiting other churches and taking part in their concerts, this is what set her up with a good base to be able to continue singing long after she left the church in her late teens.
The band are from varying backgrounds and was formed initially within the confines of The Room in the sky Studios in Waterloo, recording various works together on 7" & 12" records in 2001. Their name was then 'WHAT'S HAPPENING' and they together recorded the song 'OUT COMES THE SUN'
The line-up was a lot larger at the time, consisting of George Stewart, Patrick Fulgence, Nicholas Bald, Tracey Reid, Dave Carr, Ken Ijah Boothe and Marcia Green.
Some of the original members…
Read More about New Identity (Marcia Green)
Location
Dartford, Kent - England.
Music Label
Related CDs
Categories
EAN: 5019148631002
MPN:MBCD01