Paula Maya CDs
Buy the complete collection on CD for £13.98 + delivery
Paula Maya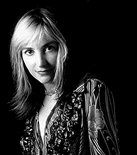 Bjork meets Jerry Lee Lewis. Resurrection is an eclectic and strong CD. The more you listen to it, the more you wanna go back and listen again. Ranging from the super fast SKA Rush, to the beautiful Electronica ballad Resurrection. "Paula Maya is the music of the future. She is a stellar singer, prolific songwriter and virtuoso keyboardist with a very fresh and unique sound" Bill White, Seattle PI
Paula grew up in Rio de Janeiro. She attended the Brazilian Federal University of Music and studied Jazz and Bossa Nova with legendary pianist Luiz Eca. In Brazil she shared stages with artists such as Djavan and Leila Pinheiro. But, as Rachel Shimp from the Weekly writes "you won't find her or her band doing covers of "Chove Chuva" or "Desafinado" - All her songs are original and primarily in English (Please find more articles at www.paulamaya.com).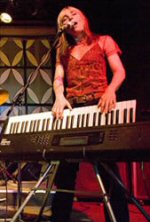 Maya is often compared to pianists such as Corea, Hancock and Tori Amos for her keyboard skills. But her true love is to write songs that will help her audience and herself to get in touch with different emotions on a subconscious level, in a non-predictable fashion. She takes the concept of eclecticism to a new level, mixing elements of her music influences: Jazz, Medieval, Electronica, Latin, Eastern, with her band's: rock, blues, and funk. Her group includes Ben Smith (Heart) on drums, Pat Hewitt (Rangehoods) on guitar and Dave Pascal on bass.
After recording a full-length album in Houston for Wow Mom Records, She moved to Seattle. In 1998 Paula began working with renowned drummer Ben Smith, who produced her EP "Resurrection 1st Half", released independently in 2000. She also became Maestro David Kyle's voice student, until he past.
In 2003 Paula Maya released "Resurrection" - the full-length - through Seattle label Yellow House Records, produced by Pat Hewitt. The title track is featured in the movie The Learning Curve, showing internationally. Her new record "Paula" was released on April 2nd 2007, also through Yellow House.
Past shows include Bumbershoot Music Festival - Seattle; San Francisco Gay Pride; Portland Rose Festival; Showbox - Seattle; Wild Buffalo - Bellingham; Loui Loui Fest - Tacoma Dome; Last Concert Cafe - Houston; Celena's Blue Room - Galveston; Jovita's - Austin; Circo Voador - Rio de Janeirol.
Paula Maya also co-hosts a radio show on KBCS 91.3fm in Seattle/Bellevue.
Location
Seattle, WA - USA & Rio de Janeiro - Brazil.
Similar Artists
Peter Gabriel, Sinead O'Connor, Bjork, Kate Bush, Tori Amos, Caetano Veloso, Bebel Gilberto.