Space Bikini CDs
Space Bikini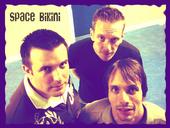 Space Bikini was formed when 3 old friends decided to put their creative brains together and write music that they themselves would indeed be very happy to listen to. The plan was, and still is, for the band to have as much fun as possible chasing their dream of making sweet music together for a living. Space Bikini look forward to many more creatively prosperous years as the only 3-piece rock band in Hampshire UK with a popular ladies swimming garment in their name.
Location
Farnborough, Hampshire - England.
Similar Artists
Feeder, Jimmy Eat World, Weezer.