Take Two CDs
Buy the complete collection on CD for £19.98 + delivery
Take Two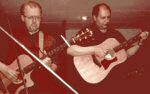 What do Take Two sound like? "Like Burl Ives singing for Pentangle!". Kevin Arnold and Dave Rolfe formed Take Two in 1999 and since then have gigged extensively at folk clubs and folk festivals in the West Midlands. They perform a blend of traditional and contemporary folk songs and some of their own material. Three of Kevin's songs "England", "Ordinary Man" and "Sea Witch" are fast becoming classics on the folk club circuit. Check out their 3 CDs and hear Kevin's wonderful natural soulful voice underpinned by a tapestry of fingerstyle guitar that Bert Jansch and John Renbourn would be proud of.
Location
Telford, Shropshire - UK.
Similar Artists
Simon and Garfunkel, Show of Hands, Dave Burland, Ralph McTell.