The True Deceivers CDs
The True Deceivers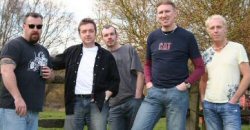 The True Deceivers were formed five years ago, and quickly established themselves as one of the UK's finest exponents of fiddle driven roots/folk rock and one of the most entertaining live bands around.
The debut album Lies We Have Told was released on A New Day Records in 2007:
Keith Woodhouse, Delta Radio: "Lies We Have Told leads you into a feeling of late night listening until it has you jigging round the room. One for all moods. A great all rounder".
Rock 'n' Reel Magazine review (four stars): "What sets The True Deceivers apart is the classic song writing of guitarist Nick Bliss, that seems to owe as much to the work of Richard Thompson as it does to that of Steve Earle. They're at their most lethal on the stabbed-Strat, melody-sodden 'Comfort Zone' and the perfectly balanced 'Writing On The Wall' where a hook line, harmonies and Mark Mitchell's fiddle work combine to glorious effect. Full marks, too, for the ingenuity in tackling Green Day's 'Time Of Your Life', which they re-clothe in poignant country garb, coloured by banjo and fiddle, whilst their influence is worn on their sleeves with a sparkling reworking of Steve Earle's 'Galway Girl'."
Location
Guildford, Surrey - England.
Similar Artists
Waterboys, Oyster Band, Tom Petty, Steve Earle.