Vincent CDs
Vincent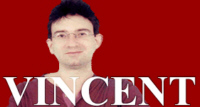 VINCENT is a one man band. He composes and plays music of various genre. His most popular work is in the classical and easy listening genre. Vincent is also an artist, writer, animator and musical composer as well as video/ audio editor. His company VW Productions produces quality animated movies that are family oriented.
Vincent has a graphic art degree from Bob Jones University, a printing certificate from Danville Community College, and a certificate in Multimedia Web Design from the Art Institue of Charlotte.
Vincent was an art teacher and taught art for grades K-8 in 4 different school systems for 6 years. Vincent is single and lives in the beautfiul rolling hills of Southern Virginia.
Vincent has always had a big imagination and has written many stories since he was a child. He always loved music and took music lessons when he was about 8 years of age, but didn't really play much anymore until about 15 years ago. In 2002 while he was taking classes at the Art Institue Vincent began to experiment with his keyboard and audio software after becoming familiar with similar types of software he was learning at the Art Institute. At that time is when he began to compose music on his keyboard.
Also during his time at the Art Institue where he learned flash and dreamweaver he began to take some of the stories he had written and started to turn them into animated movies. Vincen'ts story, "The Fall of Telgar" was written about 10 years ago, but was unfinished. He had allready done some hand animated scenes but now he was able to use computer software to further his story and produce a better product. He had used classical music in previous animated test scenes, but now he was beginning to compose his own music for each scene.
At the Art Institute he was not only taught to use graphic and web software like dreamweaver and flash, but audio and video editing techniques with Adobe Premiere. Using video cameras and video editing equipment was also part of the program. In one of his Vincen't latest projects, which he is still working on, entitled: "Beast in the Woods," he mixes live film footage with an animated character.
Vincent very much enjoys the entire creative process. Animation involves writing a story, animating the characters and scenery, voicing the characters, composing the music and editing the sound and video. Much of his music is composed with a Yamaha PSR-520 keyboard and recorded onto a cdr machine. He then takes the compact disc and saves the files on his computer to be put into an aduio editing software program called Acid Music by Sound Forge. In Acid Music he can drag and drop any sound effect or alter the music any way he wants. Drum beats can be added and Vincent likes to use gong effects in certain songs.
Vincent is a Christian and is involved with his church by singing in the choir and occassionally plays his keyboard for the congregations enjoyment. Vincent very much desires to use his musical and artistic talents to serve the Lord and further the cause of Christ.
Location
Sutherlin, Virginia - USA.