Vincent

-

Cascade Of Emotions

VINCENT's music ranges from the romantic to the sublime. The tone of his CD is very soothing and very beautiful.



Track Listing
Vincent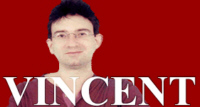 VINCENT is a one man band. He composes and plays music of various genre. His most popular work is in the classical and easy listening genre. Vincent is also an artist, writer, animator and musical composer as well as video/ audio editor. His company VW Productions produces quality animated movies that are family oriented.
Vincent has a graphic art degree from Bob Jones University, a printing certificate from Danville Community College, and a certificate in Multimedia Web Design from the Art Institue of Charlotte.
Vincent was an art teacher and taught art for grades K-8 in 4 different school systems for 6 years. Vincent is single and lives in the beautfiul rolling hills of Southern Virginia.
Vincent has always had a big imagination and has written many stories since he was a child. He always…
Location
Sutherlin, Virginia - USA.
Related CDs
Categories
UPC: 634479650376