Ze CDs
Ze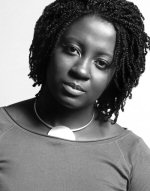 Introducing ZE
London-born singer/songwriter ZE fuses gospel with a contemporary urban soulful sound.
"Warm, moving and spiritual. . .an elixir for the senses" (Earle Holder,HDQTRZ Digital, Atlanta)
Displaying strong creative leanings from an early age, it was not until her late teens that ZE was to discover a voice that would demand her attention, nurturing and ultimately public expression.
During her teen years her interest and involvement in the creative arts was extensive and sustained - dance (tap & contemporary, talent contests), drama ( Mountview Theatre School, Sylvia Young, National Youth Music Theatre, Edinburgh Fringe) even script writing (applying for NYC Film school).
Alongside these pursuits ZE would continue to write songs at home and school (high school Music Award) and perform covers at school concerts. There were already signs that music would eventually become her primary creative focus and outlet. . .
The first collection of songs from the Birmingham based alto is due for release in early 2008. A chilled urban gospel affair with real breadth and depth of sound and themes.
This is not a vocalist chasing someone else's sound for commercial purposes. YOUR DELIGHT is conspicuously different, without making deliberate detours to be so.
Location
Birmingham - England.