As Ur

-

A Year Of Wednesdays

Inspired by the sounds of classic 70s and 80s British rock, acoustic and electric guitars, atmospheric keyboards weave their magic on 12 original songs from New Zealand.



Track Listing
As Ur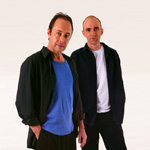 As U R (pronounced As you are) is the musical collaboration of two Aucklanders, John Stevens and Brett Rogerson. Their music seems to hark back to a time when studio supremos were producing glorious and inventive rock music for an audience open and ready for new directions and sounds. Inspired by the sounds of classic British music from the 70s and 80s, there are distinct echoes of artists ranging from Tracy Chapman to Bruce Cockburn. Using acoustic and electric guitars, keyboards and drums, the pair create a refreshing sense of artistic integrity with their debut CD "A Year of Wednesdays'.
Beautifully self-produced and recorded by the band, it is a record for the heart and the head, created with a sustained intensity of purpose and commitment. You will find hints and glimpses of Pink…
Location
Auckland, New Zealand.
Similar Artists
Pink Floyd, Sting, Coldplay, The The, Peter Gabriel.
Music Label
Related CDs
Categories
MPN:P4002