Caine

-

Panoramique

17 tracks sung in English and French....at times jazzy or bossa...some other times rock or delicate pop...but they always tend to focus on soft atmospheres, something quite gentle.



Track Listing
Caine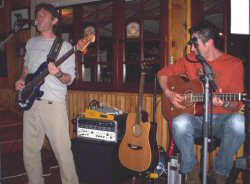 Caine was created in 2004 by two French secondary school teachers; Pep Guillem (vocals, bass, additional keyboards) and Bastià (guitars, programming, arrangements). After jamming together (mainly The Police covers) at the end of term party of their school they decided to collaborate and exchange their compositions. Very enthusiastic about each other's work they recorded two cd albums ("Autumn" and "Of stone and sand"), in a very informal way...and handed them out to a couple of friends, relatives and fellow teachers.
The name of a the duet is a reference to Michael Caine, a British actor particularly appreciated by Pep. All the lyrics were written in English at the time. Some songs were played occasionally on the local radio. They also got a very good critic in the French edition of the…
Location
Perpignan, Languedoc-Roussillon - France.
Music Label
Related CDs
Categories
MPN:AFTTMNPANO