Larissa

-

Blue

The 2006 debut album of the attractive Singer/Songwriter/Model from Siberia was internationally produced in Germany, Spain and the UK. 13 Romantic Power-Pop songs featuring infectious hooks and sophisticated arrangements perfectly showcase her sweet and soulful voice. A Pop/Rock-CD par excellence. Each song's a Hit.



Track Listing
Larissa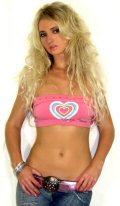 Singer/Songwriter/Model Larissa, 23, loves performing. So she developed a two- pronged career in music and modeling, successfully merging her talents into one charismatic package.
A native of Tomsk/Siberia, Russia, Larissa began performing at the age of seven. In addition to studying music, she toured as a part of a Russian Folk group and developed her passion and determination to write her own music.
Creatively marketing in tandem with her modeling gigs, she went on to perform at venues all over Europe. Opened up for pop artist Alejandro Sanz at Plaza Major, Valencia/Spain, and took part in Charity Shows of local branches of the Spanish National Cancer Charity. She also got a lot of airplay in local radio stations.
As a model she was appearing in magazines like FHM,…
Location
Cologne - Germany.
Similar Artists
U2, Madonna, Pink, Coldplay, Kelly Clarkeson.
Music Label
Related CDs
Categories
MPN:LC08248