Nicholas Alan

-

A World Like Ours

A convertible ride. An island bungalow and a lover. Everything you've always wanted.



Track Listing
Nicholas Alan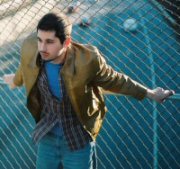 "In a world like ours go get what you came for" is a lyric from Nicholas Alan's debut cd, titled "A World Like Ours," that best describes his identity as a songwriter and performer.
Rapidly establishing himself as a timeless songwriter , Nicholas is currently touring the southeast promoting the new album. Both the album and the performances are uplifting and comforting, with songs that tell of love, loss, desire, and the need to be true to yourself by going after what you want.
Nicholas is a native of Hollywood, FL, though raised in Marietta, GA. The son of an Atlanta jazz musician, Nicholas grew up listening to experienced musicians at the top of their game playing a wide variety of pop, jazz, and rock. After playing in a few bands throughout his youth, Nicholas with the help of his…
Location
Atlanta, GA - USA.
Similar Artists
The Beatles, Beach Boys, Josh Rouse, Teitur.
Related CDs
Categories
UPC: 783707114507