Faye Patton CDs
Buy the complete collection on CD for £20.97 + delivery
Faye Patton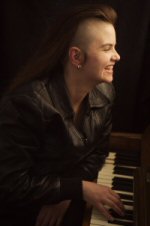 A stunning new presence at the very cutting edge of the cutting edge.....Faye Patton is an unusual jazz singer/songwriter and pianist whose music is difficult to categorise. She has a pioneering sound that owes much to the likes of Ray Charles, Junior Mance, Diamanda Galas and Rachelle Ferrell. Her piano playing has attracted comparisons with Bill Evans and Horace Silver. Her songs are lush, complex landscapes of love, loss, passion and inspiration....her rich, soul-inflected voice blending perfectly with her funky command of the piano. She is surely a formidable new talent with a wealth of original material. Though equipped with a pretty extensive repertoire of jazz standards and a piano bar playing history, she chooses to focus on her own original music and is so far entirely independent.
For the last 5 years, Faye has been gigging regularly in and around the underbelly of the London scene, both solo and with her talented band, guest musicians, from Stratford based gospel group Revelation.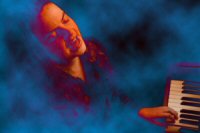 Venues include:The Vortex Jazz Club (in it's old and new incarnations) The Kashmir Klub (host to many international music stars, including Sheryl Crow),The Cobden Club, Ocean, The Spitz,The Union Chapel, WANC Cafe, Club Wotever, Deal Real Records (Female Allstars), Tyme Piano Bar, Ruby Blue, Club 1001, Pizza on The Park, The Living Room, Jenni Roditis Loft Salon, The Marie Lloyd Bar at the Hackney Empire, The Biddle Bros Bar and the Stratford Theatre Royal East . She has also been a guest at the small but prestigious Jazznacht festival in Donaueshingen, Southern Germany. Look in UK listings Time Out,The Guide and Gay and Lesbian listings Gingerbeer for regular live dates in London.
REVIEW!
''Eleven songs written and performed by Faye Patton on vocals and piano. She writes really good hooks, not just on the voice but in her piano part too, so its just all there in your head days later. Faye won my heart years ago with her line "There's a woman on the tracks and I'm going to lay down by her side". That spirit of empathy is alive as ever in 'I know the prisoner'. This new collection sees Faye laying down her piano grooves as solid gold as ever with richer chords than formerly, and some intricate classically inspired excursions. With warmth, soul, delicacy and an impeccable sense of technique and tuning, she patiently unfolds her stories, from the heart rending 'A Foolish Fool' to the humourous 'Darling I do'. 'Season for Everything' could be a classic jazz blues gem. '' (Reviewer Sue Mccreeth)
Location
London - England.
Similar Artists
Joni Mitchell, Kate Bush, Junior Mance, Scott Joplin, Bill Evans, Tori Amos, Ricki Lee Jones, Eva Cassidy, Rachelle Ferrell.