Faye Patton

-

Tell Me I'm A Sinner (Live)

An atmospheric collection of raw and rare songs. Entirely live acoustic voice and grand piano which combines neatly crafted blues piano and rich, poetic lyrics. Echoes of Scott Joplin meet the Brothers Grimm in an enchanted garden of showtime jazz/folk fusion and unrequited desire.



Track Listing
Faye Patton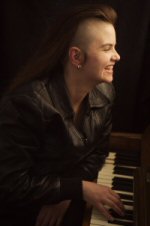 A stunning new presence at the very cutting edge of the cutting edge.....Faye Patton is an unusual jazz singer/songwriter and pianist whose music is difficult to categorise. She has a pioneering sound that owes much to the likes of Ray Charles, Junior Mance, Diamanda Galas and Rachelle Ferrell. Her piano playing has attracted comparisons with Bill Evans and Horace Silver. Her songs are lush, complex landscapes of love, loss, passion and inspiration....her rich, soul-inflected voice blending perfectly with her funky command of the piano. She is surely a formidable new talent with a wealth of original material. Though equipped with a pretty extensive repertoire of jazz standards and a piano bar playing history, she chooses to focus on her own original music and is so far entirely…
Location
London - England.
Similar Artists
Joni Mitchell, Kate Bush, Junior Mance, Scott Joplin, Bill Evans, Tori Amos, Ricki Lee Jones, Eva Cassidy, Rachelle Ferrell.
Related CDs
Categories