Funklein CDs
Buy the complete collection on CD for £19.98 + delivery
Funklein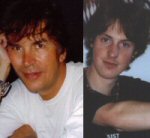 A debut album of 11 original, intimate songs with lots of feeling and warmth which are at the same time challenging and thought provoking: themes explored include love, nature, time, the beauty of the scottish Highlands, and much more... This is music of the heart and soul.
Fűnklein are John R Finch and Duncan Goulder, two friends who simply enjoy making music together whenever they can. The name "Fünklein" means "spark of the soul" or "an emission of sparks or rays of light". Funklein music has a vitality and chemistry which originates from two guys who clearly love what they do with a passion. It's very hard to pigeon-hole this music- is it new age, folk, blues, country, rock? All of this, and more!
Strands of story, wisdom, poetry, prophecy and natural philosophy are somehow mixed together in a chilled, addictive cocktail that you will want to savour and return to, over and over again. The Funklein sound is very engaging, very fluid, evoking a beautiful balance of sadness and optimism, alternating between a therapeutic calmness and tranquillity and an explosive, thrilling excitement.
In the Fűnklein outfit, John is the singer/songwriter and Duncan provides the lead guitar -palette, painting musical pictures that will simply blow you away. Their songs are full of life and intuitive surprises- thanks to Duncan's magical guitar playing. There is nothing formulaic about these songs; neither are they the synthesised sounds produced by computer keyboards; what you get is the result of inspiration, sweat and toil of two people playing real instruments. One can't help but get the feeling that these two friends are playing just for you - in your living room or bed room! Their songs are intimate, emotive, and full of intrigue- there is nothing bland about them; you may explore their meaning and apply it and make it your own. Funklein will take you on a journey but will allow you to adapt what you hear to the way that you feel; and at the end of the journey you will want to start again.
Location
Skelmersdale, South West Lancs - United Kingdom.