Funklein

-

Mystery Of Difference

Mystery of Difference is an album of intriguing songs which are intimate, challenging, comforting and deeply emotive. John's deep, warm voice is acconpanied with acoustic and electric guitars and the music always seems to enhance and never drowns out the lyrics. You can hear every word of the songs quite clearly whilst enjoying their beautiful simplicity.



Track Listing
Funklein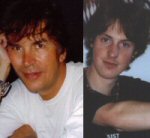 A debut album of 11 original, intimate songs with lots of feeling and warmth which are at the same time challenging and thought provoking: themes explored include love, nature, time, the beauty of the scottish Highlands, and much more... This is music of the heart and soul.
Fűnklein are John R Finch and Duncan Goulder, two friends who simply enjoy making music together whenever they can. The name "Fünklein" means "spark of the soul" or "an emission of sparks or rays of light". Funklein music has a vitality and chemistry which originates from two guys who clearly love what they do with a passion. It's very hard to pigeon-hole this music- is it new age, folk, blues, country, rock? All of this, and more!
Strands of story, wisdom, poetry, prophecy and natural philosophy are…
Location
Skelmersdale, South West Lancs - United Kingdom.
Related CDs
Categories
MPN:JFDG0105