Adults

-

Made In 1984

A genuine 1984 Electro Pop album from a versatile and unique duo. Sequencer and drum machine backings are topped with appealing and lyrical melodies performed and arranged in an interesting style.



Track Listing
Adults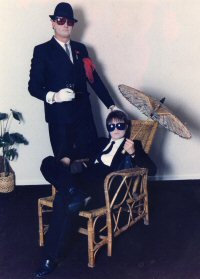 Recently cleaned and digitised the Adults songs completely reflect the true magic of the 1980's. The sequencer and drum machine backings are topped with well performed and lyrical melodies making this collection really stand out. The adaptable and unique style of Adults is apparent from the start, appealing melodies coupled with an interesting style and a perfectly balanced performance added to a vocal that is so diverse you will want to go back for more.
In this collection, a departure from the electro pop style displays the duo's full versatility with the much renowned ballad 'Clown Without a Circus'. Complete with a full orchestrated backing this song can only be described as a classic.
This material more than stands up today, a unique gem that deserves to be…
Location
Newbury, Berkshire - England.
Related CDs
Categories