Caroline G Gibson

-

On Ma Journey Now

The CD "On Ma Journey Now" Negro Spirituals in Concert is a compilation of 12 Negro Spirituals sung by Caroline G Gibson, recorded at the Rachel M. Schelsinger Concert Hall.



Track Listing
Caroline G Gibson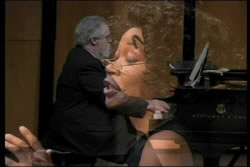 Award-Winning Soprano, Caroline G Gibson brings to life the breathtaking beauty, inspiration and historical signficance of this rich music art form.
Seen on PBS and in concert around the world.
Now you can enjoy her for yourself!
Hear and buy the CD and/or DVD or Call Toll Free to order: 1-800-774-0366
Read More about Caroline G Gibson
Location
Capitol Heights, Maryland - USA.
Music Label
Related CDs
Categories
UPC: 837101163798
MPN:6379