Kris Miller

-

Alive And Well
Kris Miller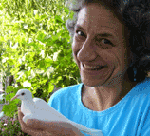 Kris Miller was born in 1955 in Long Beach, California. Throughout her life, her one goal has been to serve Our Father in Heaven and sing praises to Him. Her debut album, "Alive and Well," was entered into the GRAMMY® process for 2005 by Barry L. Shankman.
During the last 25 years, she has been serving and singing .She has written over 500 songs and is the conductor of the a cappella choir known as Pure Righteousness.
Pure Righteousness has sung and recorded their songs across the nation. They have performed at prisons, in churches, nursing homes, and on radio and TV. In 1984 they performed at the Shrine Auditorium in Los Angeles and that same year released an LP titled "A Day of Pure Righteousness."
Kris now lives in Hemet, California. She owns her own business specializing in Living…
Location
Hemet, California - USA.
Similar Artists
Sade, Aaron Nevile.
Music Label
Related CDs
Categories
UPC: 783707139708