Loosehounds

-

Takista

Formerly The Loosehound Drifters, the Shropshire/Welsh six piece return with an eagerly awaited sophomore album, once again produced by former T'Pau man Ronnie Rogers and once again mining their passion for heated rhythms and drivingly atmospheric acoustic folk rock that isn't ashamed of its roots in the heady days of late 60s progressive folk espoused by the likes of Traffic and Lindisfarne.



Track Listing
Loosehounds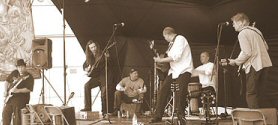 Formerly The Loosehoundrifters Been going since: 1994.
Very Organically formed band producing their own music very much treading their own Path, 3 Albums.
A collective based around four core members. Mark Haywood, lead vocal Guitar. Richie Jones, Vox & Percussion, Richard Beasley Vox, whistles & mandolin, Derek Furlong , percussion & Didgeridoo. Other musicians combine to give individual recordings and gigs a unique edge and flavor. New wave is evident throughout, elements of Elvis Costello, XTC, REM, the Blockheads, the Waterboys, the Levellers & the Oyster Band all make for a beautiful mix and their new album; 'Then Suddenly' oozes this confidence.
Other Albums include HARD TO BE HUMAN,and TAKISTA.
Best moments so far: Numerous T.V Appearances, Glastonbury. Edinburgh Fringe, Mean Fiddler,…
Location
Shrewsbury, Shropshire - England.
Similar Artists
Ian Dury And The Blockheads, REM, Traffic, Crossby Stills Nash And Young, Saw Doctors, Van Morrison, Crowded House, Waterboys, Afro Celt Sound System, Levellers, The Damned.
Music Label
Related CDs
Categories
EAN: 5060106980489
MPN:RBT 001