Kevin Stacey

-

Timeless

Spoken word and modern musical interpretation of topics taken from Kahlil Gibran The Prophet plus three instrumentals.



Track Listing
Kevin Stacey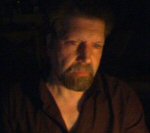 Kevin Stacey started to play guitar at the age of 15. By the time he left college he was playing clubs backing local musicians. His musical influences were mainly blues and jazz.
In his early 20's he became a freelance guitarist working with artists like The Four Top's, Thelma Houston, Freda Payne. He has appeared on TV and radio and has been the Music Director for a number of European cabaret artists.
Because of his wide experience he has gained an in depth understanding of all genre of music and he has put this knowledge to use by composing. Working mainly for music library companies he has had some success with some of his compositions being used on television.
His Influences My Parents – Kahlil Gibran----musically---Joni Mitchell – Steely Dan – Pat Methany – Larry Carlton – Jacco…
Location
Rustington, West Sussex - England.
Related CDs
Categories