Marina Tihvinskaya

-

My Favourite Dependence

"My Favourite Dependence" is the first album from Marina Tihvinskaya.This young international artist takes us on a musical journey, swinging for our delight from dance to pop-rock.



Track Listing
Marina Tihvinskaya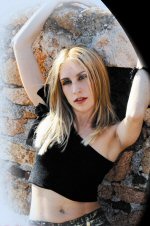 Often as composer and always as interpreter, Marina Tihvinskaya is truly international, singing with authority in several languages. In this extremely intimate album, English, Italian and French songs merrily follow each other as a hymn to the Europe which she loves to visit.
Marina's travels, encounters and feelings along the way are the muses which guide her creativity. They infuse the inspiration to find the ideal combination of words and melodies. Her artistic pursuit has been shaped by several prestigious influences: Madonna, Cher, Bryan Adams, Ricardo Fogli and Richard Marx are among her guiding lights. They have defined and nurtured her years as an apprentice in the art of music.
Music cradled Marina's young life from a very early age. Over the years, her love of music and…
Read More about Marina Tihvinskaya
Location
Paris - France.
Similar Artists
Madonna, Lady Gaga, Cher, Laura Pausini.
Music Label
Related CDs
Categories
EAN: 5052115002313
MPN:MUSICALIBCD1