Mike Surman

-

37th Chamber

37th Chambers, the new original CD from Mike which contains 11 tracks and a nicely printed glossy picture inside! Cool eh? The CD is a return to concept albums with each song having it's style, story and emotion. Tracks are a tribute to Mike's life and also Amsterdam, John Coltrane & Bruce Lee. Recorded without the use of computer programs or trickery but still very well produced and cute in all the right places. The voice? Raw, silky and soothing to listen too. All instruments, music, lyrics & production by Mike Surman.



Track Listing
Mike Surman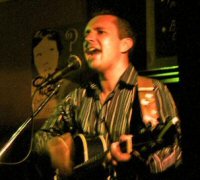 Mike Surman is a solo artist performing cover songs and solo material.
Since 2001 he has performed solo in pubs & clubs, special occasion functions and supporting Top Ten artists such as Roy Wood, Howard Jones, Belinda Carlisle, The Christians & Tony Hadley.
Also for the last nine years Mike has supported the Counterfeit Stones on their every visit to beautiful Wolverhampton playing to packed houses with only his voice, guitar and bad jokes.
Location
Wednesbury, West Midlands - England.
Similar Artists
Bob Dylan, Nizlopi, The Beatles, Electric Light Orchestra.
Related CDs
Categories