Iain S. Maclean

-

Butterfly Chasing

A bunch of songs with an emotional bite to most of them. They are about some of the things that life can throw at us, and generally does!!!



Track Listing
Iain S. Maclean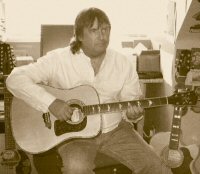 "I have known Iain for many years first meeting him at my local pub in Kingsdown near Dover where he was playing "covers". Since then he has written many songs of a powerful evocative and emotive nature. This cd is the perfect introduction to a few of his songs. From the opening track you are taken on what can only be described as an emotional journey. I've had great pleasure in listening to this cd and hopefully all who hear it will too."
(Russ Hyman - June 2006)
Read More about Iain S. Maclean
Location
Dover, Kent - England.
Related CDs
Categories