Moods (Peter Sharpen)

-

Moods 1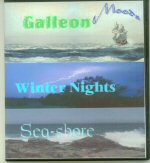 Atmospheric sounds for relaxation, tinnitus reduction and noise blanking. There are three segments on this CD, each 20+ minutes.
Track Listing
Galleon

[20:29]

Winter Nights

[22:44]

Sea-shore

[21:00]
Moods (Peter Sharpen)
I'm Peter Kenneth Sharpen. I've been writing background music for over twenty years. I have worked on music and sound effects for high-school plays. Recently I was asked to produce a "soundscape" CD for relaxation. Thus, the Moods albums.
Read More about Moods (Peter Sharpen)
Location
Bolsover, Chesterfield - England.
Related CDs
Categories