Nick Andrew

-

Solo?

This is a totally unique musical experience and has brought together Nicks love of classical, jazz and rock music. With a very off the wall virtuoso panache and sense of humour everything, from the delights of a dynamic chamber orchestra, to full on rock drums to insane jazz piano, is played on guitar and guitar synth. You just won't belive what you hear! This is the ultimate guitar album!!!!



Track Listing
Nick Andrew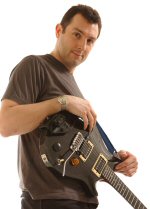 Nick is a remarkably accomplished guitarist whose range encompasses the full spectrum from flamenco and classical to jazz and rock and is not only a dazzling soloist but also an intuitive and creative rhythm player. His playing style is technically highly adept but always innovative and appropriate to its musical context, whether on acoustic, electric or MIDI instruments. Check out Curfew's new release Hold The Front Page to hear Nicks jazzier side.
Nick grew up in Scotland, where he established a formidable reputation as a virtuoso guitarist, composer and sessioneer. He moved to London in 1997 to further develop his career, working on a wide range of solo and collaborative projects with various people including as diverse as the Stylistics, Martin Taylor, Simon Dinnigan and members of…
Location
Tilsworth, Bedfordshire - England.
Similar Artists
Chick Corea, John Mcglaughlin, Jeff Beck, Yngwie Malmsteen, SteveVai, Vannessa Mae, Bond, Jaques Loussier, Steve Hackett, Nigel Kennedy, Deep Purple (concerto)
Related CDs
Categories
EAN: 5060109092028
MPN:NGA001