Pete Mitchell Alias Stratmaster

-

Pete Mitchell

Pete Mitchell alias Stratmaster continues his musical career of over 45 years as an accomplished touring musician with the release of his second solo album titled "Pete Mitchell" The CD has 7 trax. 6 new songs and also includes best selling song 'Outside Looking In'

This track has downloaded over 1.6 million around the world. If you like your songs bluzy with country and rock n roll, strong melodies with meaningful lyrics all rolled into one then this could be for you.



Track Listing
Pete Mitchell Alias Stratmaster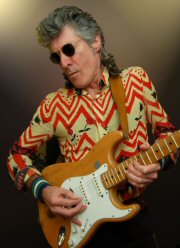 Pete Mitchell alias STRATMASTER - Guitarist/Singer-Songwriter from UK.
70s jammed with 'MUDDY WATERS' in London, worked with own band 'SPECIAL BREW' who were signed to Dick James Music in London.
80s worked with Carl Wayne from the 'MOVE' on solo project. Worked with Roger Giffin from the 'MAGIC MUSHROOM BAND'. 80/90s worked with own band 'DRIVE' Rocking Boogie-Blues Power Trio.
2000/5 recording and writing etc. 2005 started working on CD project 'Cutting The Mustard'. All 10 trax are self-penned original songs, and are guitar driven. Passionate about the BLUES in various forms, and passionate about the guitar! 'Cutting The Mustard' is in the genre CROSSOVER Electric Blues/Country-Rock.
New Book just released titled 'Outside Looking In' (autobiography) about struggling musician, working…
Read More about Pete Mitchell Alias Stratmaster
Location
Weybridge, Surrey - England.
Similar Artists
Crossover - Stevie Ray Vaughan / Billy Gibbons / Freddie King / Waylon Jennings.
Music Label
Related CDs
Categories