The Rosellys

-

One Way St.

The Rosellys are an americana duo, playing original songs with a country feel mixed with folk and a rhythmical acoustic sound. With influences such as Eva Cassidy, Alison Krauss, Ry Cooder and Ryan Adams their up beat tracks are far too catchy to forget and their slower tunes are simply beautiful.



Track Listing
The Rosellys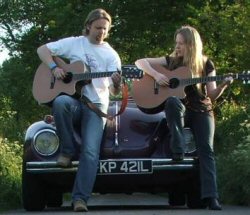 The Rosellys met in April 2005. With a 3/4 nylon strung guitar they began to learn basic chords and songs, by February '06 they had written and recorded their debut album 'Drive Through The Night'.
From the age of 12 Simon, born in Watford, (with a Louisiana Soul) was on stage playin fiddle with the Cajun/Zydeco Swamp Rock group 'The Bon Temp Playboys' and deppin with other artists travelling throughout the U.K. as well as Denmark, Israel, the States, and a bit of television and radio work for Carlton and the BBC along the way.
The Bon Temp's Squeeze Box player is Simon's Father Allan, who is featured on the new album 'One Way St' playin' 2 row Accordion and Pedal Steel... Rebecca's Mother Helena is a superb Cellist/ Music Teacher, and her Father is the Director of Opera at The Royal…
Location
Nottingham - England.
Similar Artists
Influenced by artists such as Gram Parsons, Joni Mitchell, James Taylor, Ry Cooder, Tracy Chapman, The Redlands Palomino Co, The Neville Brothers, Toby Traylor, Ryan Adams, Nora Jones, Shawn Colvin, Alison Krauss, Johnny Cash, and of course Rebeccas biggest inspiration and influence, Eva Cassidy.
Related CDs
Categories
UPC: 634479782039