The Seventh Angle

-

The Seventh Angle

The debut album from The Seventh Angle comprises 12 hard rockin' tracks that have a unique heavy, but melodic sound. Kick back, pour yourself a drink and get ready to rock with 'Angle.



Track Listing
The Seventh Angle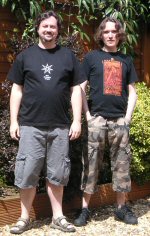 This is for all the rockers, stoners, boozers, metallers, and everyone everywhere who loves loud guitar music.
The Seventh Angle is a labour of love. The songs were recorded at different times, with various supporting musicians and in different locations.
Grant and Adam are the fellas who keep it all together.
The Seventh Angle is a unique set of recordings and we hope you play it LOUD. Let's boogie!
Read More about The Seventh Angle
Location
Bradford and Milton Keynes - England.
Similar Artists
Black Sabbath, Down, Tool, Kyuss, Metallica, Prong, Deftones, Slayer, Pantera, Anthrax, Smashing Pumpkins, Goatsnake, Motorhead, Black Label Society, King's X, Soundgarden, Faith no More, The Doors, Nirvana, Melvins, Vision of Disorder, Helmet, Corrosion of Conformity, Crowbar, Monster Magnet.
Related CDs
Categories