Burnshee Thornside CDs
Buy the complete collection on CD for £22.97 + delivery
Burnshee Thornside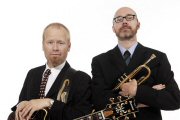 The third release from K. Burnshee and Matt Thornside. (The funky "Steely Dan Duo" from Sweden.) This album is a joyful mix of jazz-soul, funky jazzrock and some beautiful ballads, along with intelligent, funny and out-of-the-ordinary lyrics. "How did they come up with that? That's not something you can write a song about... Or? I guess they just did...".
During a period of 10 months, 15 songs have been selected and recorded at Resaro Studios. Burnshee Thornside will take you through the story of Errol Flynn ("Dear Errol"), the tragic life of the first woman to make plastic surgery ("Consuelo") and the life of a man who can't seem to avoid having sex with every woman he meets (Tennis in Venice).
And there's more. "Wish I could write lyrics like Bob Dylan" is a philosophic and bitter statement, while "Rock This Moon" is about a great party in space. Not forgetting "Doodelido", about how to write love poems, and "Bang I Shot Him", the Wild West epic about The Meaning Of Life.
You'll have a surprising voyage with Burnshee and Thornside, no doubt :-)
Instruments have been played, guitars have been choosen, drums have been beaten. Take after take has been evaluated and, sometimes kept, sometimes put in the bin. It's been lovely hard work and now it's your time to listen.
Please give a big hand to the players that made this album possible: Tomas Bergquist, the amazing drum player and basist (and keyboard player and percussionist and singer), who is the most important brick in the house of Burnshee Thornside. Lars Lundell, Keyboards, Hammond and piano. Hans Olofsson, saxophones. Åsa Henrksson, trombone. Niklas Öhrner, keyboards on "Rock This Moon". Lilling Palmeklint, backing vocals and brilliant lead vocals on "Miss your love" and "Time Flies Away". Kia Wedin Nilsson, backing vocals. Martin Eriksson, flute. Katarina Seger, backing vocals and extra cool vocals on "In your loop". Peter Borgén, saxophone on "Bad Bad Luck".
K. Burnshee, all guitars (and some keyboards). Matt Thornside Vocals, trumpet, keyboard, kazoo and banjo. All Music & Lyrics by Burnshee/Thornside (Nilsson/Henriksson. ©) Arrangements by Burnshee/Thornside. Horn Arrangements by Thornside.
Location
Vaxholm, Stockholm - Sweden.
Similar Artists
Old Steely Dan, Michael Franks, old Prince, 70's soul, blues.