Curst Sons CDs
Buy the complete collection on CD for £29.97 + delivery
Curst Sons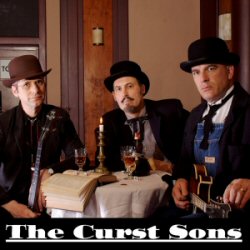 REVIEWS:
Grassroots genres mixed together for something entirely fresh, original and genuine.
Music-News ****
R2 (Rock'n'Reel) ****
The Curst Sons are definitely unique, and in an industry where too many bands play really great music that sounds the same as too many other bands, that's a major plus. … No one will listen to this album and be untouched by it.
Backroads Music
…sometimes macabre, always engaging lyrical numbers, take their influences from Americana, blues, Irish folk to roots and more, embracing the history of these genres and adapting them into something new and just as exciting. – catch one of their animated live shows for a rip-roaring good time.
The Brighton Source
As fine a band as we've ever had in session on the show.
Mark Lamarr - BBC Radio 2
Irreverently mixing elements of Blues, Folk and Bluegrass with occasional hints of Afro-Latin and New Orleans Jazz, the Curst Sons' raw and rootsy sound is both deeply traditional and weirdly contemporary.
Members of The Curst Sons have played in many Brighton bands over the years. Dave Simner (banjo, guitar) and Willi Kerr (vocals, percussion) were members of the legendary Daddy Yum Yum, who famously turned down a record deal with Pete Waterman. Not wanting to be one-hit-wonders like Brighton contemporaries The Piranhas, they rapidly became no-hit-wonders. Tim Dunkerley (slide guitar, mandolin) then joined them in various formats until The Curst Sons were born in 1999.
In one guise or another the boys have performed on the same bill as some fondly remembered, and a few best forgotten, acts like Clint Eastwood & General Saint, Ian Dury, Pete McCarthy, The Bogs, Wilko Johnson, George Melly, The Piranhas, Billy Joe Shaver, Alexi Sayle, Pookiesnackenburger, Reckless Kelly, The Meteors, Tony Hawks, The Lambrettas, Spear of Destiny, The Clash, The Screaming Blue Messiahs, The Love Gods, and Arthur Brown.
Luke Cresswell plays percussion on three of the tracks on Hell Awaits You. Oscar nominated film director and joint creator of the international percussion sensation STOMP, Luke has worked with BEATS INTERNATIONAL, BETTE MIDLER, BRYAN FERRY, ELVIS COSTELLO, and FREAK POWER. He is also a prolific writer of music for TV. www.stomponline.com
The Sons still play all over the South East, as well as various festivals and anywhere the pay is good and moonshine flows.
Location
Brighton, East Sussex - England.