Loosehounds CDs
Buy the complete collection on CD for £35.98 + delivery
Loosehounds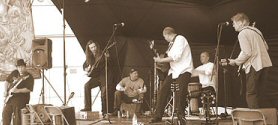 Formerly The Loosehoundrifters Been going since: 1994.
Very Organically formed band producing their own music very much treading their own Path, 3 Albums.
A collective based around four core members. Mark Haywood, lead vocal Guitar. Richie Jones, Vox & Percussion, Richard Beasley Vox, whistles & mandolin, Derek Furlong , percussion & Didgeridoo. Other musicians combine to give individual recordings and gigs a unique edge and flavor. New wave is evident throughout, elements of Elvis Costello, XTC, REM, the Blockheads, the Waterboys, the Levellers & the Oyster Band all make for a beautiful mix and their new album; 'Then Suddenly' oozes this confidence.
Other Albums include HARD TO BE HUMAN,and TAKISTA.
Best moments so far: Numerous T.V Appearances, Glastonbury. Edinburgh Fringe, Mean Fiddler, Borderline Club,represented the best of new British Music at MIDEM Cannes Music Festival. Rated and played regularly by Bob Harris, Steve Lamacq, Johnnie Walker Radio 2 and favorite of Mark Ellen, Editor of The word and Mojo Magazine. Rootsy acoustic groovy songs, delivered with passion!
REVIEW: Mike Davies. NET RHYTHMS:
The Loosehounds - Takista (Rembrandt)
Formerly The Loosehound Drifters, the Shropshire/Welsh six piece return with an eagerly awaited sophomore album, once again produced by former T'Pau man Ronnie Rogers and once again mining their passion for heated rhythms and drivingly atmospheric acoustic folk rock that isn't ashamed of its roots in the heady days of late 60s progressive folk espoused by the likes of Traffic and Lindisfarne.
It's a lot tighter and more confident this time round too, Rogers gelling the instruments together in arrangements that create a surging wash of sound but also distinguish individual textures. Listen to the sultry colours of Outside The Pain with its Latin rhythms and rainforest moods, the slow stomping blues Someone I Believe In with its twanging Jaw harp and harmonica or the South African kwela cascades to Crazy When It gets Insane and the fusion of brass, mandolin and the steady percussive beat on the angry but naggingly catchy Lies.
Singer Mark Haywood is behind all the material, two tracks co-penned with mandolin player Richard Beasley, one with drummer (and band engine) Richard Jones and one as a band composition. They do the personal relationship bit, Turn Me On a grown up love song, but most are forged by social-political conscience, a commentary, that informs the observations of the Lonely World. Lies, Wheels To The World and the simple acoustic Good Morning that addresses eco issues, the Iraq war and the apathy towards Third World poverty. Taking its title from the Estonian/Greek for 'soon', the slow building title track serves as a warning of impending apocalypse, told through a view of Earth (aka Takista) from the perspective of colonists from space looking to find a planet with all the resources necessary for their survival, reporting back that the same eco madness is driving it to self-destruction.
Someone described the album as evocative of early Fleetwood Mac, but if you want a better comparison point, then Latin Quarter would be your best musical map reference, which strikes me as incentive enough.
Location
Shrewsbury, Shropshire - England.
Similar Artists
Ian Dury And The Blockheads, REM, Traffic, Crossby Stills Nash And Young, Saw Doctors, Van Morrison, Crowded House, Waterboys, Afro Celt Sound System, Levellers, The Damned.