Loosehounds

-

Hard to be Human

Keith Whitham~Get Rhythm 2000
Instantly memorable songs and exquisite arrangements seem to combine effortlessly. Every track on Hard To Be Human is a well crafted slice of radio pop that'll have you humming the hook after one listen like an old melody rediscovered. The chameleon quality of the group means that at any point they can sound like Van Morrison, Crowded House, The Saw Doctors and many others rolled into one.

The only thing they've got wrong is waiting until now to release their first album- it was only the cost that held them up. 'Hard to be Human' reflects their softer more acoustic side but there are two sides to Loosehounds professionalism- they can clearly produce a highly listenable album but live they're even better.



Track Listing
Loosehounds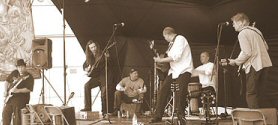 Formerly The Loosehoundrifters Been going since: 1994.
Very Organically formed band producing their own music very much treading their own Path, 3 Albums.
A collective based around four core members. Mark Haywood, lead vocal Guitar. Richie Jones, Vox & Percussion, Richard Beasley Vox, whistles & mandolin, Derek Furlong , percussion & Didgeridoo. Other musicians combine to give individual recordings and gigs a unique edge and flavor. New wave is evident throughout, elements of Elvis Costello, XTC, REM, the Blockheads, the Waterboys, the Levellers & the Oyster Band all make for a beautiful mix and their new album; 'Then Suddenly' oozes this confidence.
Other Albums include HARD TO BE HUMAN,and TAKISTA.
Best moments so far: Numerous T.V Appearances, Glastonbury. Edinburgh Fringe, Mean Fiddler,…
Location
Shrewsbury, Shropshire - England.
Similar Artists
Ian Dury And The Blockheads, REM, Traffic, Crossby Stills Nash And Young, Saw Doctors, Van Morrison, Crowded House, Waterboys, Afro Celt Sound System, Levellers, The Damned.
Music Label
Related CDs
Categories
EAN: 5038044611321