Loosehounds

-

Privilege Of Pleasure

AMAZON REVIEW
'From the outset one can hear the years of hope, experience and just plain fun these boys can have, and better still take you with them. Yes, as ever there are some serious and profound lyrics, but they are now mainly points of observations made of life in a wickedly but whimsical way.

The Loosehounds are very much now showing a sound totally their own, we'll to be fair they always have. With a slight folk element still showing under the heavier exterior. For those of you that need a reasonably easier listen then maybe "Into The Fire" or "Put Your Gun Down " could be for you, but remember the songs have a internal meaning! Even more so with "Don't Give A Monkey A Gun" and the wonderful and very clever song " Valium" a standout song that should never be missed, and if you do, it would be akin to missing a number of your favorite tracks, that you'd hate to miss out on.



Track Listing
Loosehounds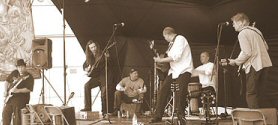 Formerly The Loosehoundrifters Been going since: 1994.
Very Organically formed band producing their own music very much treading their own Path, 3 Albums.
A collective based around four core members. Mark Haywood, lead vocal Guitar. Richie Jones, Vox & Percussion, Richard Beasley Vox, whistles & mandolin, Derek Furlong , percussion & Didgeridoo. Other musicians combine to give individual recordings and gigs a unique edge and flavor. New wave is evident throughout, elements of Elvis Costello, XTC, REM, the Blockheads, the Waterboys, the Levellers & the Oyster Band all make for a beautiful mix and their new album; 'Then Suddenly' oozes this confidence.
Other Albums include HARD TO BE HUMAN,and TAKISTA.
Best moments so far: Numerous T.V Appearances, Glastonbury. Edinburgh Fringe, Mean Fiddler,…
Location
Shrewsbury, Shropshire - England.
Similar Artists
Ian Dury And The Blockheads, REM, Traffic, Crossby Stills Nash And Young, Saw Doctors, Van Morrison, Crowded House, Waterboys, Afro Celt Sound System, Levellers, The Damned.
Related CDs
Categories
UPC: 610696082268