Eve Of Mind

-

Let's Take A Ride E.P.

21st Century Rock - Pure Energy - Melodic Rock - Life Force - Life Affirming Positive Rock.



Track Listing
Eve Of Mind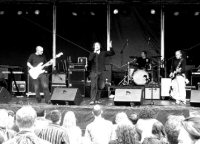 Eve Of Mind are a 4 piece rock group from Cork, Ireland. The members are: Ger Buckley, Brian Cleary, Zullo & Keats on the beats.
In the turbulent month of January, vocalist Ger went through a very intense & prolific writing period where he wrote a new album in under a fortnight entitled "Welcome To Our Scenery". A concept album, it explains the bands philosophy on life with Fun, Happiness, Freedom & Creative Expression being key factors in their mentality. How this amazing band joined to make such beautiful music happens to be quite a bizarre tale. A very peculiar occurrence of strange events led to this happening. In short, Ger & bassist Brian formed their first band nearly a decade ago, went to New York in 2001, and then left following the chaos of 9/11.…
Location
Cork - Ireland.
Similar Artists
The Smiths, The Doors, Elvis, The Cure.
Related CDs
Categories