Eve Of Mind

-

Teddy TV

Teddy TV is a collection of socially conscious and quasi-political tunes. This album, a focussed and provocative work, represents a band intent on raising the bar in terms of the listening public's expectations. The bands unique sound has been described as "Oscar Wilde fronting a Doors/Elvis tribute band with a twist of The Cure". Having revealed their intentions in the public arena, through their attempt to reach the common man, Eve Of Mind are certain that this uplifting collection of poetic wit will leave an indelible mark on the hearts and minds of the receptive masses.



Track Listing
Eve Of Mind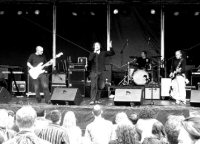 Eve Of Mind are a 4 piece rock group from Cork, Ireland. The members are: Ger Buckley, Brian Cleary, Zullo & Keats on the beats.
In the turbulent month of January, vocalist Ger went through a very intense & prolific writing period where he wrote a new album in under a fortnight entitled "Welcome To Our Scenery". A concept album, it explains the bands philosophy on life with Fun, Happiness, Freedom & Creative Expression being key factors in their mentality. How this amazing band joined to make such beautiful music happens to be quite a bizarre tale. A very peculiar occurrence of strange events led to this happening. In short, Ger & bassist Brian formed their first band nearly a decade ago, went to New York in 2001, and then left following the chaos of 9/11.…
Location
Cork - Ireland.
Similar Artists
The Smiths, The Doors, Elvis, The Cure.
Related CDs
Categories