Simon Waldram

-

The Day the Signal Died

Indie pop meets dark psychedelic folk to soundtrack moments of quiet desperation.



Track Listing
Simon Waldram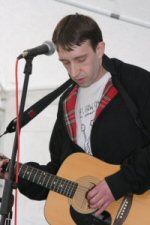 Simon is always pushing the boundaries and never sticks to one style with recordings ranging from experimental and instrumental to indie pop and psych-folk.
Simon has many influences including Halaka, Nick Drake and Galaxie 500 and uses an acoustic and electric guitars with different effects pedals as well as toy keyboards and different percussive instruments to achieve his sounds.
Location
Mansfield, Nottinghamshire - England
Similar Artists
Steven Davies, Elliott Smith, Galaxie 500, The Go-Betweens, Mazzy Star
Music Label
Related CDs
Categories